The blog of the day has to be
Weasel Zippers
. In fact, I just added it to my blogroll!
The POST of the day comes from there:
Veterans Storm Washington D.C.
It is simply a photo essay of the events that took place today.
These are my favorite photos. [Most of them are from Twitter via Weasel Zippers unless otherwise noted]:
Vets carrying a 1776 design flag and in a Don't Tread On Me styled pose - are seen stomping down the Barrycades [heh heh]!
Obama Brownshirts arrive in riot gear! HT/ Commieblasters
Ted Cruz was there in support of our Vets, as well as Sarah Palin [not in this photo].
Here's a photo of Sarah Palin from her Facebook page!
She writes:
We were proud to stand with thousands of America's vets and other patriotic Americans today in Washington, D.C. This morning, Todd and I met with Senators Ted Cruz and Mike Lee, and they joined us and other Americans at the World War II Memorial and then at the Lincoln Memorial, where we were met by a SWAT team in full riot gear! Watching those who have fought to protect freedom prevented by barri

...

cades from visiting these memorials to freedom was truly heart wrenching. Seeing the unity of the American people as they joined together and rose up against this out of touch government was an inspiration. God bless our veterans, those who continue to serve, and their families.

I'll be posting an album of some photos from today. Below are the brief remarks I gave today:

We're here to show that the size of America's heart for our veterans is immeasurable! But look around – barricades to shut down our memorials? Is this how a Commander in Chief expresses his gratitude? This "shutdown" priority proves a shameful lack of respect. It reflects a person's lack of valor.

But, Vets, We the People have learned from you! We know America will only remain the "Home of the Free" so long as we are the "Home of the Brave!"

So, as we honor you, U.S. Military, know that our gratitude will not sleep! We will be brave! You were not timid, so we shall not be timid in calling out ANY who heart-wrenchingly would use you as pawns in a political game.

America's finest paid the price for our freedom today. Vets, you protected us from tyranny then. Rest now, it is OUR turn to protect against tyranny again.

Ronald Reagan said, "Some people live an entire lifetime wondering if they ever made a difference in the world." YOU, vets, need never ask that of yourselves. You made ALL the difference!

Our war memorials remind us of the cost to keep us free. YOU paid the price! Rest now! We will pick up the mantle. We won't let you down. We now take up the fight for freedom!
What WONDERFUL patriots!
*******
But then, they are met by a Barry-Gestapo??
Be sure to view the videos at the site. There are police officers ready with their tear gas to confront the 82 year old vets! LOL!!
Must be one of the "dangerous" participants!
The Vets will NEVER FORGET BENGHAZI and what Obummer and Hell-ary didn't do to try and save these brave Americans!
This one is just unbelievable! Plastic handcuffs???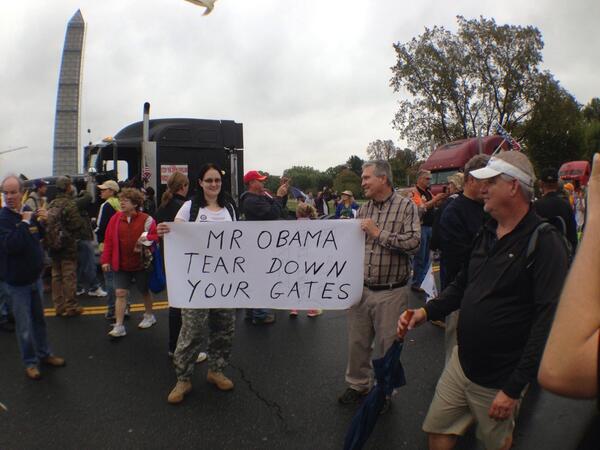 A poignant message to Barry-boy!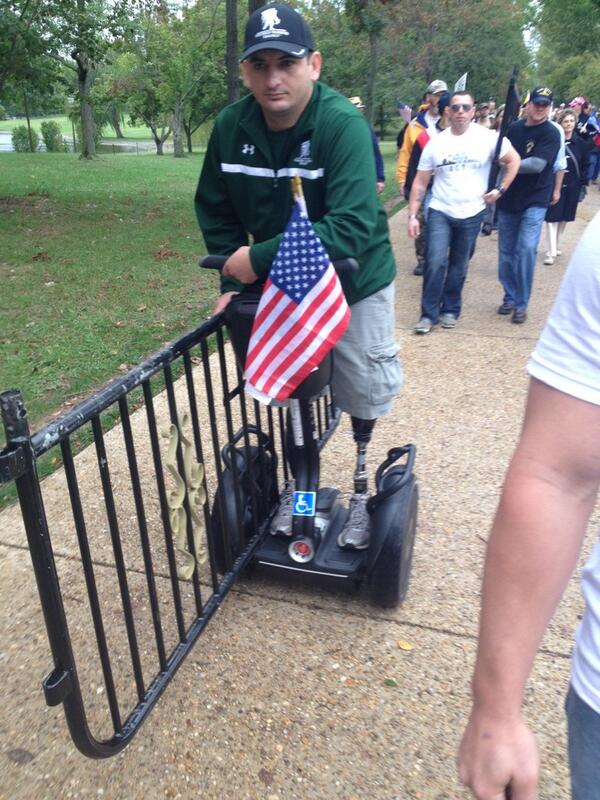 Oh my....here's another "dangerous" participant! A legless Vet on a Segway carrying a Barry-cade!!
So....where is he going with it?
Watch the video!!
Video HT: Annette Beland
Dropped them down in front of the Spite House!!! LOL!!!
Hat tips:
Weasel Zippers
Twitter
Annette Beland
Sarah Palin's Facebook page
*******
Also see:
REALLY DUMB! Riot Police
Pick Fight with Military Vets
Crowd Tears
Down Barrycades
Takes Them to
the Spite House
Capital Police
Help Move Barrycades
Vets Take Over
the WWII Memorial
Vets:
We've Had Enough!
CNN
Mocks Veterans
Hat tip: Commieblasters
*******
Update 10/14/13:
Additional blogs covering the story:
'We Are Marching to the White House': 'Million Vet March' Descends on Washington, Barricades Torn Down
871 Comments
*******
protein wisdom
The Natty Conservative
Maggie's Notebook | America is the force that defeated communism and all those who would put the human soul itself into bondage. Ronald Reagan
Nice Deb
*******
End Time Bible Prophecy